On this episode of Revelator I welcome CGOY Elizabeth Marx back to the show along with heavy metal powerhouse HellYeah! It's Revelator's "Blood for Blood" for Valentine's Day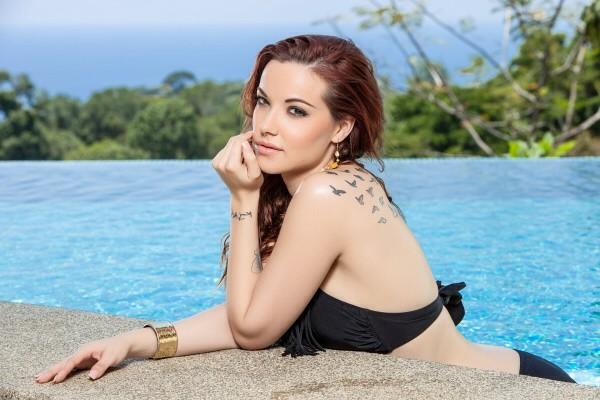 It's always a pleasure to interview a Playboy playmate! I've been lucky to interview a few in my day. It's even a bigger pleasure for them to enjoy you enough to come back for a second time to talk with you. This is this case for 2014 "Cyber Girl Of The Year" (CGOY) for Playboy.com Elizabeth Marx who first appears on Revelator #72 "Theory Marxs The Spot" that also features Theory of A Deadman.
Elizabeth is not only one of the most beautiful and sexy women you'll ever see grace playboy.com but she is also a really great woman who is humble and has a great future with not only modeling but photography. Elizabeth and I have always clicked well in conversation because we have a lot of common interest.
I hope you enjoy this great conversation with her and take some pointers on making Valentine's Day just that a Day with a subtle, relaxed approach that I feel most women prefer.
I hope you enjoy the true natural beauty that is Elizabeth Marx.

Hellyeah:
I had the opportunity to interview one of the hottest and powerful metal bands going today in HellYeah! I say HELLYEAH!! You'll hear from Kyle the bassist from the band along with the newest single "Moth". Kyle talks about joining the band, the current tour that kicked off in Vegas last week, and the bands future plans for more touring for the summer of 2015.
Hellyeahs's most recent album, Blood For Blood, is a welcome return to form. It leaves a mark, thanks to songs like the "Sangre Por Sangre (Blood For Blood)" and "Demons In The Dirt." Then there is moodier, more contemplative fare like the current hit radio single, "Moth" which connects on an emotional, cellular level. "HELLYEAH lock and load their most crushing and catchy salvo yet with 'Blood for Blood'. It's unmitigated, unbridled, and unique energy makes for one of the best heavy records of 2014 and the band's definitive offering to date. It will leave you bloody and smiling" says Rick Florino of ARTIST DIRECT
HELLYEAH announced their "Blood For Blood" 2015 US Tour, featuring support from special guests Devour The Day and Like A Storm. The tour kicked off on Friday, February 6th in Las Vegas, NV and visits 23 markets through early March.
See below for a full listing of tour dates and check out http://www.hellyeahband.com/tour today for tickets, VIP packages and further information.
January is National Blood Donor Month! To raise awareness about the cause, HELLYEAH invites you to give blood through the "BLOOD FOR BLOOD" National Blood Drive. Fans who pledge to give at this location (or make a financial donation) will not only receive a signed poster from HELLYEAH, but will also be entered to win tickets, Meet + Greet package, signed merch + more!
This Week in Revelator History:
This week in Revelator history features Johnny Fox from the Canadian based band The Standstills, compose a story being brought down to its core, stripped of all inessentials, and rendered art. Like rugged, spare, soulful prose, their craft is Hemingway meets John Lee Hooker, overdriven.
The band is working on new music and a new website to go along with new music. There is not ETA but you can bet that The Standstill will be fueled with power hungry riffs. On this episode of Revelator you'll hear a "Good God Damn" sample of what The Standstill are all about.
Twitter: @TheStandstills
Facebook: https://www.facebook.com/TheStandstills