Revelator Show 91: Crobot Sauce Christmas
On this episode of Revelator I welcome guitarist Bishop from the band Crobot. I'll also cover the top movies at the box office, share some good & bad gift ideas for Christmas. I'll share personal Story Time with Ryan. Ho, Ho, Ho who doesn't love three Ho's for the Holidays!?
Revelator is back on itunes!


Next week's show will be the 4th installment of "The Eclectic Sessions" featuring music from past guest of the last six months. If you'd like to make a request to hear a band that's been on Revelator on the last 6 months please contact me on Twitter https://twitter.com/ryan_unsigned

Crobot:
My guest on this special holiday show is Crobot who released their debut album " Something Supernatural" this year and have really turned head with their heavy, groovy, dirty, rock sound. I say add beer , weed mix in Crobot and press play! On the show you'll hear two single from the band that include "Nowhere to hide" and "Legend of A Spaceborne Killer"

There was a time when rock radio was dominated by great riffs. From Deep Purple's "Smoke On the Water" and Derek And The Dominoes' "Layla" to Soundgarden's "Black Hole Sun" and Rage Against The Machine's "Killing In The Name Of" it was all about that unmistakable guitar sound that instantly identified a band or song.

The four members of Crobot — Brandon Yeagley (lead vocals), Chris Bishop (guitar), Jake Figueroa (bass) and Paul Figueroa (drums) — have united to bring that back.
Crobot is a modern rock band with a sense of humor, as well as their own hot sauce, CROBOT has already been making their mark among peers with their wild live performances. But for Crobot, at the end of the day, it is all about the sound.

"All I care about is that people walk away after hearing the album thinking, 'Man, Crobot is the funkiest, heaviest band I've ever heard,'" Bishop says.
Revelator past Guest Music News:
Conquer Divide:
Kia, from the band joins me on Revelator #83 "Stone Cold Kitchen Duty" To talk about the bands tireless effort in recording their debut album. Since KKia and the girls were last one the show they have been signed by Artist Direct and have released a new single & video for the song "At War
Conquer Divide "At War" (Lyric Video):


Since their formation in late 2012, Conquer Divide have managed to create a unique, modern and ever apparent dichotomy of beautiful elegance and intense aggression that intertwines seamlessly with one another. The music certainly doesn't spare any dynamics, with the album taking the listener on a roller coaster ride of divergent stylistic qualities representing each of
their musical tastes. In their short time together, they have managed to capture attention and gain respect from their ever growing fan base and critics alike.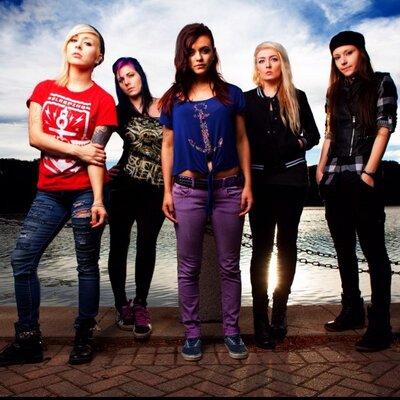 Kia from the all female band Conquer Divide joins me on Revelator #83 "Stone Cold Kitchen Duty " to talk about the bands first album set for release early 2015. Kia and I also talk about the bands recording process, easy bake ovens, touring, and guilty please music.
For more information about Conquer Divide please visit:
Eyes Wide Shut single: http://t.co/BqGnI4HepO
https://twitter.com/conquerdivide
It's not exactly a secret that the group is comprised of all girls, but you wouldn't know simply by listening to one of their songs. However, don't let their image fool you. "We are all girls, and you can't hide that, but we want people to focus more on the quality of the music." drummer Tamara reveals. "It wasn't an easy thing finding girls who not only were passionate about this type of music, but could play it well." So after years of looking in the States, they were forced to look all over the world, auditioning over 200 girls. They are subsequently based in two countries, the United States and England, but this hasn't slowed them down any. Suzie, vocalist, admits "We were especially lucky to find our guitarist Izzy, who shares the same vision we do. We found out quickly how much of a rarity dedicated and talented female guitar players are." The band concluded that they couldn't let distance be a factor when putting the lineup together. "When I was contacted by the girls I instantly knew it was perfect for me, not everyone gets the chance to work with such like-minded musicians." Izzy adds.
The band has been working with acclaimed producer Joey Sturgis (Asking Alexandria, Of Mice and Men, Blessthefall) on their debut album for the past year. "Well these girls have been spending time, you know, a year, maybe two years writing some of these songs, and when you have that much time invested into a project, it's definitely passionate. So I knew I had to be involved in some way, because I really like to work with passionate musicians who really care about what they're doing" says Sturgis. "Joey has really helped bring our songs to life, he has pushed us to the limit and made us think outside the box. He is an amazing producer and we are lucky to have the opportunity to work with him, he definitely brought out the best in all of us," vocalist Kiarely admits.
SunFlower Dead:
Michael, the lead singer for Sunflower dead joins me on Revelator # 76 "The Sunflower Riot Chronicles"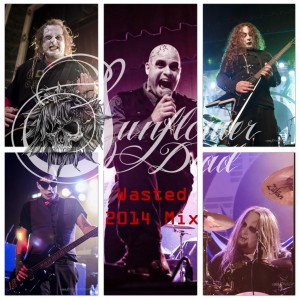 Coming in on the heels of last month's very successful U.S. tour with Powerman 5000 and (HED) PE, Long Beach, CA hard rockers SUNFLOWER DEAD are pleased to announce that they have tapped Dave Fortman (Evanescence, Slipknot, Mudvayne, Godsmack) and Mikey Doling (Snot, Gemini Syndrome) to produce their upcoming full-length album. Recording began this November, with the official album release scheduled for next year.

Co-producer Dave Fortman states, "I am very much looking forward to producing the new SUNFLOWER DEAD record along with longtime friend and producer Mikey Doling. This record will be a great experience for all involved."

Co-producer Mikey Doling adds, "I am so excited to be producing the next SUNFLOWER DEAD album! The big bonus is that Dave Fortman, who has produced some of the finest albums in the last 15 years, is producing the album with us. With Dave being one of my best friends and mentor, SUNFLOWER DEAD is going to get a lot of exciting energy from the two of us working together with them.

This week in Revelator History:

I spoke about next weeks show being an all music show. The 4th installment of the "Eclectic Sessions" This week in Revelator History features "The Eclectic Sessions Volumes II" Revelator # 40.

I've included a list of all the artist you'll hear on this show below:
Song List: