Revelator Show 85: Get Some
On this episode I welcome Mikey Doling from the band SNOT. I'll also cover my week 10 NFL picks, the loss of Wayne Static, The top movies at the box office and much more on Revelator!
I tend to always come up with interesting titles for shows each week. However this weeks blog there was really no other option, "Get Some" was going to be it. Now, of course I did have a few ideas bounce around in my head as to what I could have named the show. I've listed a few almost made it show titles below.
"My Balls Your Chin"
"Snot"
"Dr. Rhythm"
"Fuck The Record, Fuck The People"
These photos were taken at the historic Ryman Auditorium in Nashville, Tn. Halloween night Oct. 31st.
For more information about about the Foo Fighters please visit:
https://twitter.com/foofighters
The Ryman Auditorium is a legendary place to see a concert. Its rich history is embedded into the fiber of Nashville's music mystic. Its stain glassed windows, church pews and high ceilings provide a setting and a sound unlike any other. With that in mind, throw in the fact it's Halloween night and the Foo Fighters are the entertainment; decked out in death metal corpse face paint!
I showed up at the Ryman around 9:30 to a wild scene of ghosts, ghouls, sexy nurses, Reggie Jackson look alikes, Smurf's, witches, bloody brides and sugar skull painted faces ready for The Foo Fighters to melt their faces!
The Foo Fighters took the stage at 11PM after a screening of their hit HBO series "Sonic Highways". The band started off big, with hits like "Hero","All My Life" and "I'll Stick Around"; a song off their first self-titled album. It wasn't until about the 4th song that Dave Grohl said, "Man I forgot to say hello, Happy Halloween everybody." He also added, "We are going to play as many songs as we can tonight. It's going to be a long F***in' night! I hope you all have baby sitters!" Dave then talked about how great it was to play at the legendary Ryman and took his shoes and socks off so he could feel it, soak it in!
After running through a large catalog of songs, Grohl introduced each member of the band with a witty display both on stage and with their respected instrument. Rhythm guitarist Pat Smear did a Champaign bottle solo that entailed Pat using the bottle as a slide, then drinking from the bottle while bouncing the bottle on his guitar pickups. Grohl said, "Like Hendrix lighting the guitar on fire; Pat Smear and his Champaign bottle solo."
The Foo Fighters then welcomed their first guest to the stage. Dave was talking about meeting this guest and how he had the worst hangover of his life the next day. He also stated that meeting this man changed him. The guest was Tony Joe White, who took a chair center stage to jam out a bluesy, distorted version of "Polk Salad Annie".
As the show was creeping into its second hour Dave Grohl said,"You guys want to get weird? Do you?" Then came a three song cover set starting with Queen and David Bowie's "Under Pressure" then Van Halen's "Ain't Talkin' Bout Love",followed by an extended version of Tom Petty and the Heartbreakers' "Breakdown." I say, go ahead and give it to me!
You want more? Well, how about Dave Grohl on drums?! Yep! Bare foot and still an all-time great drummer! Grohl took to the kit and drummer Taylor Hawkins took to the mic to sing!
The Foo Fighters reached for some great cuts and played a wide range of music off of albums in their discography, like "Rope and Arlandria" off the Wasting Light album. They also played a great extended version of "Monkey Wrench" off The Color and The Shape album. Grohl even dug deep for tracks off their self-titled, debut album, such as, "For All The Cows", which was a request from someone at a BBQ restaurant earlier in the day. Then the song "Watershed" was played for a friend of Grohl's in the crowd who also produced and helped him build his studio.The Foo Fighters debut, self-titled album will be 20 years old in the spring of 2015!
Dave Grohl saw a clock side-stage and said, "Is that the real time?"(It was near 2 AM) The Foo Fighters then broke into the new song, "Congregation", off the Sonic Highways album, followed by on-stage guest, Zac Brown. Grohl stated he met Zac a few years ago while they were getting fitted for suits. Zac Brown came on the stage also wearing the death metal corpse face paint. Zac and the Foo Fighters, fueled by the rumble of the packed crowd banging on the Ryman Auditorium wooden church pews, played the brilliant, haunting riff of Black Sabbath's "War Pigs". An outstanding version of a true classic!
Dave Grohl thanked the city of Nashville and expressed his admiration. Grohl said, "This is not the last time we'll play here. We will come back and we will play a bigger place but man, this is a lot of fun."
The Foo Fighters put on a show, which for those in attendance, will NOT forget! It was chock full of hits, rarities, amazing guest musicians and was easily one of those shows that you'll talk about when someone asks you: What's the best live show you've ever seen? I know when someone asks me, I'll say "Foo Fighters, Halloween night at the Ryman Auditorium; in an epic 3 hour onslaught of pure, energetic rock music!" I can't wait for the Foo Fighters to come back to Nashville!
I want to give a big thank you to Chris and Aysia from TRS247 Radio for giving me the opportunity to be a part of their radio network on TRS247.com .The Revelator show can be heard weekly at 8PM ET. For those who are new to Revelatorshow.com I say welcome and I hope you enjoy all the great info, concert reviews and concert photo's on the site.
I open the show talking about my amazing experience Halloween night at The Ryman Auditorium. I had the opportunity to see the Foo Fighters in a one night only event. Not only did I get a chance to see this show, I also was able to get a photo pass to photo the event. To see photos & read full review of the Foo Fighters epic 3 hour, 26 songs set list Halloween night click here. http://www.revelatorshow.com/live-concert-reviews/5
Wayne Static:
Regarding the recent news this past Saturday night of Wayne Static's passing, I share a fun story about the first time I heard Static-X and their debut album "Wisconsin Death Trip"
Singer/guitarist Wayne Static (born Wayne Richard Wells) of the industrial metal band Static-X has passed away at the age of 48. His death was confirmed by Wayne's publicists at FiXT Publicity.


Static-X released six studio albums between 1999 and 2009 before disbanding. Static then launched a solo career and released his debut solo album, "Pighammer", in 2011.

Wayne was scheduled to take his solo band back on the road for a co-headlining tour with POWERMAN 5000 starting on November 6 in Waterloo, Iowa.
SNOT:

This week's show is a special one for me in a lot of ways. I've been a big fan of the band SNOT for many years and having a chance to speak with Mikey was really a great experience. Mikey was open and candid about SNOT and he had some great stories to share about Lynn. The stories range from his great recording story for the song "My Balls Your Chin" to their first meeting and forming the band in LA. Mikey also speaks about the impact of Lynn Strait's loss both personally and professionally.
You will also here three cuts off the album "Get Some" The interview leads off with a double shot of SNOT including the lead song "SNOT" followed by a personal favorite of mine "Unplugged" I close the interview with one of Mikey's favorite tracks off the album "Snooze Button" that also has a new video made of old concert footage of Lynn Strait and some visual images from the world we live in today.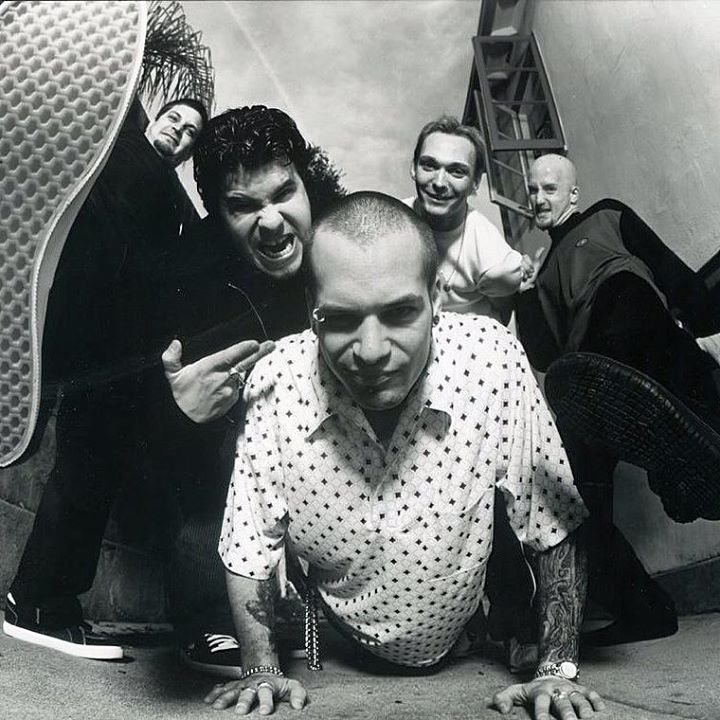 Lynn Strait was killed in a in six-vehicle crash on a freeway exit ramp December 11th, 1998. Also killed was the band's mascot, Dobbs, Strait's dog who adorned the cover of Snot's debut album for Geffen, 1997′s "Get Some."
SNOT has tapped Carl Bensley (Vitate, Consume The Fire) to sing for the band following the recent departure of Tommy "Vext" Cummings (ex-DIVINE HERESY). SNOT guitarist Mikey Doling says: "[Carl] is an incredible monster vocalist and great dude. [We're] very excited to rock with him."


It's great to have SNOT back in action! If you're a fan of metal music this is your shot to see them. Mikey, also hinted about more shows in 2015. I for one hope so! Get Some SNOT!
This Week in Revelator History:
This week in Revelator history features show #34 "Bring Your Smoking Jacket" http://omnes.tv/revelator/episode34/
I interviewed Natasha Singer from the band Eye Ra Haze to talk about their upcoming EP "Eye Of The Storm" We also share some great stories about her modeling career and how she broke into the music industry. Natasha and I also share an admiration for Faith No More Singer Mike Patton.
For this week I've decided to do something a little different with this weekly blog feature. I'll still be doing a small write up about past guest but I'll also be playing one song from the artist on the weekly broadcast. The Eye Ra Haze song "New Beginning" is the feature track on this week's show.
This past March Natasha issued this statement about the bands demise on Facebook.
To most of you what I am about to say may come as a real shock and for those close to me they know it has been a long time coming. I have decided to end my project EYE RA HAZE. I have felt uninspired and distracted for some time and couldn't quite pull it in the direction I really desired, couple that with some bad luck and timing and looming personal issues and it has left a dark cloud over us that has weighed heavily upon me for far too long. I hope you will all continue to support these wonderful friends I have had the honor of playing with these last few years. I will leave the FB fan page up so Nicole Papastavrou Kevin Corcoran Chris Marrone Karine P. Catenacci can all post about their exciting new projects to come. They are all so deliciously talented. Not to worry my loves I will continue to sing and song write and experience myself through this next chapter of my life and cannot wait to share with all of you who have shown me so much support even 4 year before Eye Ra Haze was even a band and just my performing name you have been there for me. What a wonderful part of my musical history.
As always thank you for taking the time to read and listen to Revelator. I've got some amazing upcoming guest that include Blue Stalhi, Andy Wood, Annandale, Drowning Pool and many others yet to be named. I've also got some great concert photos coming up that include Death from Above 1979 and Mastodon.
Please click subscribe below to get the latest info on what's happening on Revelatorshow.com