Revelator 79: The Rival of the Boiling Point
On this Episode I welcome music guest The Rival Sons and Boiling Point to talk about their new albums and upcoming plan. I'll also cover the top movies and week2 in the NFL.
This week's show was a mesh of musical styles but that is what Revelator is all about. Here are some fun titles that almost became cut for naming the show.
"Point Me To The Sugar Shack"
"I Let My Mustache Do the Talking"
"The Great Western Boiling Point"
"If You Hate Rock'n'Roll"
Rival Sons
The first guest is Scott Holiday from Rival Sons who are from Long Beach Ca. Scott was a lot of fun. He was able to share a lot of information about the band's new album and recoding it in Nashville. It seems a lot of bands are coming to Nashville to record these days. It's not only country music in the Mecca of music.
Rival Sons may be labeled as retro, classic, throw back or whatever other terms you can come up with.
One thing for sure is that this band is honest, good old Rock"N"Roll. It's a whiskey on the rocks, shake your ass, grab the hot girl at the bar and give her a kiss on the lips music! The album The Great Western Valkyrie is a Confident, humble, play with my Mustache kind of music.Scott and I talk about family and kids going back to school, the first meeting with his wife at the sugar shack. He also talks about the upcoming tour, the special guest who appears on the album recording and his Mustache! Rivals Sons.I Let My Mustache Do the Talking https://www.youtube.com/watch?v=G-5SSbLpLyU

Boiling Point:
My second Guest Was Eric the lead singer of the Minnesota based band Boiling Point. Eric was a very easy going and forthright guest. Not only did he share a lot of personal stories with me regarding the loss of his mother and other close family members. Eric's brother is also the drummer in the band and he talks about their interactions both in early life and currently. Eric also discussed the ups and downs creating the new album "More" that is officially released 9/16/2014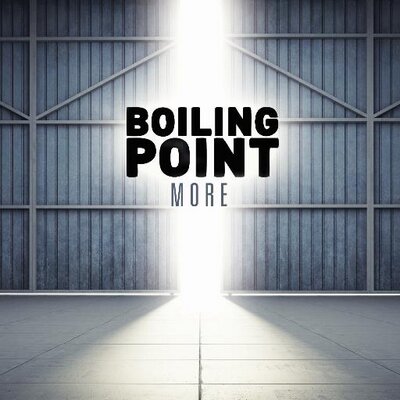 Eric and I talk about the band's success regarding opening up for some great national acts and having songs featured during the 2012 and 2013 NCAA college football season. Eric and I talk a little but about this year's college football season and I make some awful predilections for my final 4 in this year's college playoff.
On the show not only do I discuss a wide range of topics about the bands beginnings and the current release you can also hear the bands first single off the album "More" titled "When All Is Lost" We also feature two other songs off the album "Put your Hands Up" and "Brand New Day" I feel these songs show how deep and meaningful the album is over all. Boiling Point put a lot into this album. There is always a risk when putting out something so personal. I believe in this case it will pay off for the band.

This Week in Revelator History:
Revelator 29 "Release the Truffle Shuffle"

Featuring "Against All Will" and singer song writer Chris Stringer

Last year at this time I did an interview with Jimmy Allen former Puddle of Mud guitarist. Jimmy and I have a great rapport with one another and he was very easy to talk with. His new band "Against All Will"
We talk about the decision to leave Puddle of Mud and the forming of Against All Will.
Also on this show you'll hear singer song writer Chris Stringer who was really a fan of the show first before being a guest.
NFL Pig Skin Picks Week 3:
I did not have a great week of picks but still went 10-6 making me 21-11 on the season thus far.
There were some great games this week and a lot of injuries to key players for those fantasy football players. A.J Green, RG3 and the Adrian Peterson news of child abuse is disturbing.
The NFL has an image issue. This is not new. The NFL has always seemed to of had its issues with players regarding guns, drugs, murder, man slaughter, and a host of other things. I discuss this in more detail on this week's broadcast.
Let's get to this week's games starting with the TNF game featuring
Bus vs. Falcons: I'm taking the Falcons at home even after the butt kicking they got from the Bengals last week.
Texans vs. Giants: The Giants have been awful dating back to last season 0-6 start. I'm not saying they will go 0-6 again but going 0-3 will.
Redskins vs. Eagles: Well, The Eagles have won both games this year in come from behind fashion. I don't believe this will be the case this week and the dark horse in the NFC will go 3-0
Cowboys vs. Rams: The Rams has issues on the offensive side of the football. It Tony Interception shows up maybe the Rams can get the win.
Raiders vs. Patriots: The Raiders are the black hole loosing 8 games in a row dating back to last season and no end in sight. Heading to New England will not help matters. Black Hole Baby!
Vikings vs. Saints: The Saints finally get to play at home coming off two last second losing games. I look for them to thrash an average Vikings team
Colts vs. Jaguars; Well, I would of never guessed these two teams being 0-2. Ok maybe the Jaguars being 0-2. The Colts have zero pass rush. The Jaguars have zero pass protection something has to give here! I suspect the Colts to get on track.
Titans vs. Bengals: I feel anyone who heads up to the queen city to play the Bengals will get beat. This week is no different. I look for Jake Locker and that soft as butter cream front 7 of the Titans to have a long day.
Chargers vs. Bills: I want to believe in the Bills but I really like what I've seen from the Chargers so far. Taking on the cardinals and Seahawks in the first two games and coming out .500 is a win. Now they head all the way to Buffalo, at least it's not Nov. in Buffalo. Chargers grind out a win.
Ravens vs. Browns: As a long time suffering fan of the Browns, it was outstanding to see them win a close game at home for a change! Now it's time to beat the old Browns and head into an early bye week 2-1
Packers vs. Lions: Flip a coin! I have no idea what to expect from these teams this week but I'll take the Lions at home! Why not!
49ers vs. Cardinals: The 49ers play their first game in their new stadium in front of a sold out crowd ad give up a 17 point lead in the second half! I'm taking the Cards at home!
Broncos vs. Seahawks: The Super Bowl rematch in the setting of the 12th man. I don't expect this to be a blow out like it was this Feb. I still like the Seahawks at home to win.
Chiefs vs. Dolphins: The Chiefs have taken a step back from last season and the injuries are mounting on both side of the ball. I like the Dolphins in this one.
Steelers vs. Panthers: This isn't your dad's Steelers team. I expect the Panthers and Cam to carve up the Steelers!
MNF:
Bears vs. Jets: I have no idea why I'm taking the Jets in this game but I am because they are home on MNF and you know Rex will have his team ready to play. The Jets in a close one.
Upcoming Guest: Red Fang, One Eyed Doll, Blue Stalhi, We Are The Finale, and many more yet to be named. Remember to subscribe to the blog below.
-Ryan