Revelator Show 76: The Sunflower Riot Chronicle's
On This Episode I welcome We Are The Riot and The Sunflower Dead. Both bands singers talk about the groups new music and future plans. I'll also cover the top movies and more on Revelator.

This show had no shortage of topics to help in selecting a name. Here are a few show titles that did not make the cut.
"There Will Be Blood"
"Sunflower Riots"
"Metal Spikes"
"Impaling Riot"
Sunflower Dead: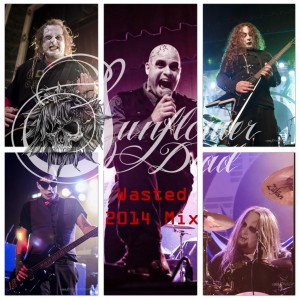 The first guest on Revelator is the 'Sunflower Dead" who hail from Long Beach, CA. They are no strangers to hard rock and metal scene, as the band is a rebirth of sorts. Three-fifths of the band rise from the ashes of former nationally recognized touring acts DROID and Two Hit Creeper. They are rounded out by additional band members who have toured internationally with Buckethead, In This Moment and Memento. Their former bands have earned national recognition by touring alongside Korn, Linkin Park, HELLYEAH, Five Finger Death Punch, The Family Values Tour & the Vans Warped Tour.
Michael the lead singer from the band joins me to talk about their current tour that ends on Aug. 30th with Power Man 5000 and Hed PE. Michael also talks about his musical history and influence. He's not only a powerful singer with a wide vocal range. Michael also plays piano and accordion. Both instruments are infused with the band's songs and live performances to offer an interesting dynamic to the bands rich sound.
Michael and I also talk about his on stage presence that not only includes some face paint but a homemade jacket, that has an unaccounted for number of real metal spikes. The jacket is pushing a hefty 25lbs or so. Michael said he's not impaled any band members as of yet, but you never know! He includes that he's cut himself a few times while performing with the jacket on. You can get a good look at Michael and his heavy metal Jacket in the bands first video "Wasted" you can hear from this video the jacket is not the only thing heavy and ready to impale the unaware! Impale your ears with Sunflower Dead and their self titled debut album.
I close the interview with Sunflower Dead's version of The Police song "Every Breath You Take" This not only captures how sinister the words are to this song. Michael breathes new life into this track with his powerful and indelible version of what for most consider a nostalgic song.
Sunflower Dead has a unique and forthright music to go along with a hard driving desire to perform and give crowds their monies worth. They feel like a band that can really continue to write and manufacture quality music for years to come.
We Are The Riot:

This week's Second guest on Revelator is "We Are The Riot" A heavy rock band from LA. featuring Meegs Rascon (Coal Chamber), Mikal Cox of Coal Chamber. The lead singer Jimmy Trigger https://twitter.com/JimmyTrigger joins me on the broadcast. You can tell Jimmy has a real passion to be great not only as a singer but also as a positive person.
We Are The Riot set a re-launch with Jimmy as the singer in 2013. Jimmy talks about his first meetings with Mikal and Meegs on the show. The bands current EP titled "The Hollywood Demo Sessions" was released this summer that includes the single "It's Not What You Wanted" This is the song that starts off the interview. Jimmy and I talk about the video and the concept behind it. He also touches on the bands recent run on Wayne Statics "Wisconsin Death Trip Tour" I always find it funny when an interview starts off talking about the weather or something common. It's really a comfort thing and much like this interview it turns into something more revealing and natural. Jimmy shared a great story about his first vocal tracking for the band that landed him the gig. We also talk about the bands future plans for 2015 that includes more songs and what one could only imagine is a big tour to follow! One thing's for sure there will be blood! Keep up to date and get the latest info about "We Are The Riot" here
www.wearetheriot.info
Revelator Past Guest News:
Annandale was one of the first guests on Revelator show #2 "I'm an Egg Man" the show also includes comedian /singer song writer Lisa Monroe.
Annandale is a hard rock based out of Knoxville, Tennessee. Chad and Ashley founded the band in May 2012. The band is set to release the follow up to their 2013 EP "Moving Forward" that was produced by Clint Lowery from Sevendust. The EP also features Morgan Rose from Sevendust on drums.
Annandale's new album titled "On The inside" is set for release September 30th. They are also looking to collaborate on art for for the new album. If you're interested in doing so please visit: http://annandale.bandcamp.com/album/on-the-inside
I look forward to hearing what Chad and Ashley have been up to musically. I hope once the album is out I can feature them on an upcoming show.
Dead By Wednesday appeared on Revelator #68 "The continuation: Death by Art Of Shock" Opus the drummer was on to talk about the bands new EP "Death Of a Rock Star" and also their recent tour with Shadows Fall this summer. The album, produced by Nicholas T. Rage of Toxic Holocaust (Hatebreed, Kingdom of Sorrow, Jasta), can be purchased as a limited edition digipack or hard copy NOW here: http://earoneproductions.bigcartel.com/. Death Of A Rock star is the band's fourth release.
Formed in 2005, DEAD BY WEDNESDAY made their mark by releasing their debut CD Democracy is Dead on Jamey Jasta of Hatebreed's Stillborn.
DEAD BY WEDNESDAY is pleased to announce their upcoming performance as part of the "Headbangers for Hatewear" showcase, sponsored by Hatewear Inc. The showcase will take place on Friday, September 5th 2014 at The Blackthorn 51 in Elmhurst, Queens, NY.
Lionize who appear on Revelator show #51 "Jetpack Soundtrack" Chris the key board player from Lionize joined me to talk about recording and making the new album "Jetpack Soundtrack" the bands 5th album since 2005. The bands first release on Weathermaker Music label.
Lionize formed in 2004 and are based out of Maryland. The guys from Lionize have been extremely busy touring. They were featured on this year's Vans Warped Tour. The band is starting a fall run with label mate Clutch on Sept. 5th in Rhode Island and finishing Sept. 26th in Virginia. After a short break the band will start their own headlining tour on Oct. 10th on the Bam Margera & F&@kFace Unstoppable Tour. To see if Lionize is coming to a town near you please visit: http://lionizemusic.com/tour/
I hope you enjoyed this week's run of shows that also includes "The Nearly Deads" and New Medicine.
I've got some really great bands in the next few weeks that will include The Chimpz, Nothing More, One Eyed Doll, and many other yet to be named.
Don't forget to click subscribe below to get the latest Revelator Blog and Revelator Show info sent to your E-mail.