Revelator Show 74: "Kobra & The Fallen Angel"

On this episode of Revelator I welcome music guest Dark Beauty and Kobra Paige from Kobra and The Lotus. I'll cover bizarre headlines and the top movie from this past weekend.

Here is a list of show titles I was thinking about going with. I can't really recall how I come up with these titles. They really pop in my head.
"Small Smokey Club in Turkey"
"Kisses Make Up Box"
"Kick Boxing Kobra"
"Lotus and The Beauty"
"Pao"
"Exercise Your Korba"
HEADLINES: This is a segment on the show where I take bizarre titles of news stories and speculate what may have happened
Man calls 911 when stripper won't have sex with him? I think I had some real fun with this on the show but now I'm wondering what the 911 call sound liked. Maybe it went something like this...
911: Whets your emergency?
Man: Yeah I've got this stripper here and she won't have sex with me!
911: Um, sir this is 911 for emergencies only
Man: Look lady this is an emergency, I want sex with a stripper, and I need to get laid. I'm so backed up right now and I want stripper sex. I even offered to play "Cherry Pie"
911: Sir, Cherry Pie, amazing as that song is. It does not always guarantee sex.
Man: Well, It should. I even played Girls, Girls, Girls!
911: …..
Man: I should have played Big Butts!
911: Sir Mix A Lot... Hangs up…
Now I close out the headlines section with this bizarre exercise device for your mouth. It's the The Facial Fitness Pao; This may be one of the strangest things I've seen in some time for fitness! Now the guys have the shake weight and the ladies have the Pao! Hey, who wants to be my work buddy?
I wrote my own commercial dialog out for this product. I hope you like it.
Do you have a saggy face? Need a stronger mouth? Well Pao! Say good bye to those weak mouth muscles and hello to a thinner more satisfying oral refuge! Pao! In your face! Lift your face! Turn the kisser into a Pao kisser! For only one minute a day, you! Can give your mouth the flex and fitness it needs, for a better Facial structure and an oral dexterity sure to make others smile. Pao! How you like my mouth now?
After the opening Monolog the Song "I Am, I Am" from "Kobra and The Lotus" comes in like a freight train running hot! One of my favorite songs on the album "High Priestess"
You may be thinking to yourself, where have I heard the name Kobra and the Lotus before? I'll tell you where. Kobra and The Lotus was the opening act for Kiss and Def Leopard this summer while on tour!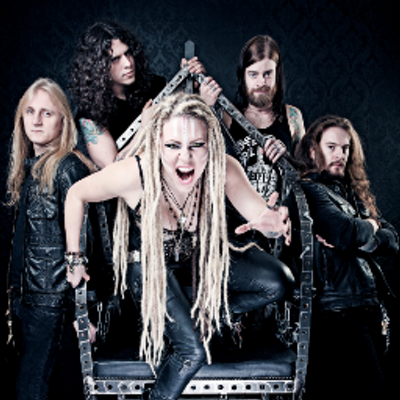 Kobra Paige was a fun guest, sharing stories about touring with Kiss, and the metal all stars tour. She also provided great perspective about her vocal work as a singer and her becoming more comfortable as a vocalist on the newest release. I think you can hear her evolution as a singer on these songs.
Korba and I share a few laughs from Kisses make up box, to her down time enjoyment of kick boxing and MMA.
We close the interview with the bands newest single "Soldier" You can see the video to this song on the bands bio page "Kobra and The Lotus"
From the song Soldier to the "Dark Lullaby" from the band "Dark Beauty" who's new album "Fall From Grace" is now out and ready for you.
Liz and Bryan join me to talk about the creation of this album and the many different layers to it. This album is unique, different, and complex. The "Fall From Grace" concept album has haunting vocals, masterful guitar work and a real ambiance of culture and texture. Not only do Liz, Bryan and I talk about the new album but I also get Liz to provide us a sample of her vocal warms ups! Liz was a great sport. I thank Bryan for helping me push her to do it!
We close the interview with the song "Save Yourself"
This is one of my favorite songs from Dark Beauty. I like it right down to the name of the song. When I hear "save yourself" I often think about different meanings and levels of where this could go. It could even be the inner view of one's self. Save yourself, some days I think we need saving from our self's. Fellow man and woman, humanity I know you're out there. Save yourself from pain, hurt and others who aim to bring you down. Keep a positive outlook no matter how hard things may seem. Take time to save another, lend a hand, or even lend an ear. Listen, respond, interact, teach, develop and create.
It's rare I release two shows in a week but I've gotten a lot of content this week and next week on Revelator. I've got these upcoming interviews & music from "We Are The Riot" "Sunflower Dead" "The Nearly Deads" and many more great bands like "Nothing More" this September.
Don't forget to subscribe to Revelator! Get the latest updates and newest shows once they are released.