On this Episode of Revelator special guest CGOY Elizabeth Marxs and Musical guest Theory Of A Deadman. Remembering Robin Williams and much more on Revelator!
You know I enjoy naming the show but this week was a tough one to title because of so much content. Here are a few I came up with:
"The Pants Off Theory"
"Marxs Of A Deadman"
"Savages Below The Belt"
"Na, No, Na, No"
This show was an emotional one for me, talking about past times with my friend Andrea Wolf. It's hard to believe that she has been gone 10 years.
I guess you never know what's going to trigger a memory of someone who had an impact on our life. It may be a song, flower, sound, smell, a picture and for me in this case it was the band Helmet. I mean, it's weird but at the same time as I write this, refreshing. This reflection back, not only on that one night seeing Helmet in 1998, but reminiscing on all the good times Andrea and I had as kids; riding the bus together, weekend parties, the in depth conversations at a coffee shop at 3AM. The times she was learning to drive and ran over mail boxes or crashed into the deep ditch at my parent's house. Sometimes it's good to look back and realize how lucky you were to have someone in your life even if they were gone too soon.
I did a Live Review and Photos for this week's Filter show at the Exit In here in Nashville. http://www.revelatorshow.com/live-concert-reviews/ On the show I bring up the song "Hey, Man Nice Shot". Still, to this day, I can't hear this song while driving and not look down and go 'Oh shit! I'm speeding!' This is really a song about Suicide.
That's what leaves me and brings me to Robin Williams. When I first heard the news, I was shocked;I did not read a single article or watch any tributes about him. I used to enjoy hearing and seeing interviews with Robin Williams; as a youth and even in my adulthood because he was so entertaining. I used to joke that I had no idea what his real voice sounded like because he used so many different inflections and characters during interviews. I now find myself wondering: What did his regular voice really sound like? There are only a few moments in life when you get to enjoy someone at the top of their craft. There are even fewer moments in life when someone can make you laugh until you cry! Robin Williams was that kind of person, with that kind of talent. It's something we may take for granted in today's fast world. The phrases 'greatest', 'genius', 'best ever', 'never be another', apply to so few but in this scenario with Robin Williams, they are ALL true! I mean, I've always enjoyed comedy, even as a kid I was always trying to make people laugh and when Robin Williams came on a talk show or had a comedy special,I'd watch it without distraction. You never knew what he was going to say or what voice he was going to use but you knew it was going to be entertaining, refreshing and done with a natural demeanor that could affect you in such a positive and vibrant way.
"I wish I could have met you", words from the song, "Hey, Man Nice Shot".
I'll miss Robin Williams for a lot reasons. There are too many to list. It chokes me up writing this even now as my eyes water up. We may never know why. We have to take those moments of greatness he left us and look back, not in anger or sadness but celebrate that we got to have such an amazing man share and affect us on so many levels. Robin Williams was not just a comedian or an actor. Robin Williams was a beacon of life, he inspired others, he provided us an escape, and developed something everlasting and meaningful.
I've included a link to Robin Williams Stand up! If you've ever heard his stand up, I'd suggest you take a moment and try not to laugh until you hurt.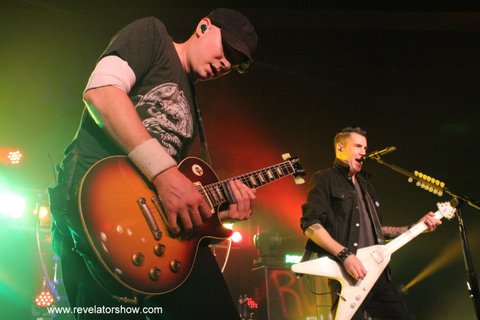 The first guest on this week's Revelator is Dean from Theory Of A Deadman, who just released their new album "Savages". The interview starts off with the song "Blow". A song that really does capture some social issues and shows the creative whit and growth of the bands song writing ability. Dean talks about the bands break coming off the last album"The Truth Is…" and the idea of what the band wanted to create musically when they went to record with Howard Benson. Dean also shared some great stories from the road and some past tours that allowed them to really cut their teeth as a band first starting out.
Dean also discusses prepping for the current tour in support of the new album Savages. Theory Of A Deadman will be joined on tour by 3 Pill Morning! This tour is sure to provide a lot ofhard rocking nights while these guys are on the road together.
Dean talks about the Song "Drown" as the first single off the album and the selection process of making it the first single.
My Second guest is the one and only, Elizabeth Marxs! She is the current Cyber Girl of the Year 2014 for http://www.playboy.com/ Now, for those of you who are new to the show, this is NOT the first playboy model I've had on Revelator. In fact,I've had 2013 CGOY Jennifer Vaughn on the, on two different occasions. If you'd like to hear those shows you can do so here:http://omnes.tv/person/jennifer_vaughn/.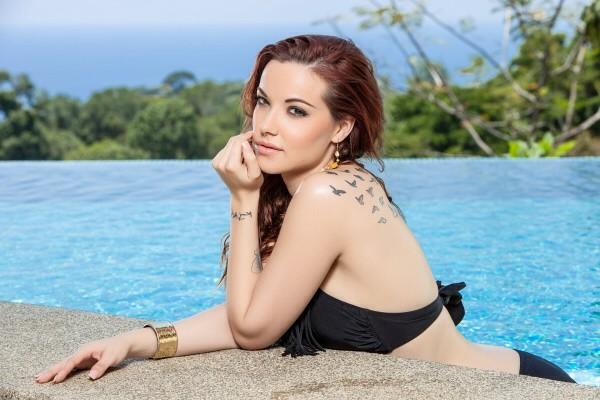 Now, let's get back to the lovely, sexy and charismatic Elizabeth Marxs. We met by chance, a few weeks back on Twitter and I asked if she would like to be a guest on the show to talk about her career and passion for music. She said 'Yes! Of course!' and we were able to talk a bit before her guest spot on Revelator. I found we shared quite a few common interests. I also learned that she is working for a great program called "Cancer Below The Belt".

Elizabeth is not only very sexy but we shared a few laughs regarding me taking my pants off! Yeah, hard to not fulfill that request from her! I informed Elizabeth that if she wanted to do the interview naked, she could. She would NOT to be the first female to do an interview naked! I can only hope she's not the last! (Hear Phoebe Pinnocks naked interview "Orianthi and Phoebe, How Heavy This Axe!")
This week's past Revelator guest music news:
Miss May I released a new lyric video for "You Want Me"
You can hear Ryan Neff's interview talking about the new album "Rise Of The Lion" and touring on Revelator: "Miss May I Have Your Hot Pocket?"
Front man, Levi Benton, explains that the lyrics to "You Want Me" were inspired by being overwhelmed by the expectancies of others:
'You Want Me', is one of the most personal songs on the new record. When I wrote this song, I was relating to the fans because, like them, I'm tired of being pushed around and tired of trying to live up to others expectations. I feel this video symbolizes how we push those people to the ground.
Miss May I's new album, "Rise Of The Lion", is out now via Rise Records! Get your copy via iTunes here. "Rise Of The Lion" is Miss May I's fourth album and the first to be produced by the legendary Terry Date (Pantera, Deftones, White Zombie, Bring Me The Horizon). "Rise Of The Lion" is inspired by the countless fan letters the band has received over the years.
One of the most interesting and dynamic guests I've had on Revelator is Blue Stalhi. He appears on Revelator #49 "Blue Stalhi Sunny Side Up"
Blue Stahli's forthcoming sophomore album, "The Devil, Chapter 2" was released this July 29th. The album gathers more steam with Chapter 02, which builds on the bulrush Sonics of Chapter 01. Two new songs, "Ready Aim Fire" and "Enemy", kick out head-chopping metal riffs and breakneck beats. These are fleshed out by two instrumental interludes and three remixes by Wildpuppet, OCTiV, and Animattronicthat explore the electronic possibilities inherent in Blue Stahli. If the devil's gonna getcha, at least go down with good music reverberating through your skull.
The lyric video for "Enemy"
I hope you enjoyed this week's Revelator. I have some really amazing guests in the coming weeks that include:Adelitas Way, New Medicine, Chris Giles, Dark Beauty, We Are The Riot, The Nearly Deads and many more! Thanks for your time and support. Spread the word, tell a friend about Revelator.