On this Episode of Revelator I welcome Komodo Wagon and Christina Criss from the band Kaleido. I'll also cover past guest music news, top movies and the Fire Challenge! All this and MORE on Revelator.

I updated the site tag line. I'd like to know what you think. Reach out to me on Twitter or comment below.
Artist interviews from the best in the music industry. Discover your new favorite band, hear the music, interviews, comedy, concert photos, entertaining blogs, live show reviews and more. Reveal with Revelator.
Well, this show was fun to put together and coming up with a title is always fun. There is never a shortage or ideas when you have this much material to work with, so I've listed a few below:
"Floss the Sloth"
"I'm Burning, I'm Burning… Oh Shit I'm burning"
"Fire on The stove"
"Just add Water"
"Don't get loaded Cody"
"Kaleido the Komodo"
"Remember To Sloth Kids"
"Fire Marshall Bills Fire Challenge"
So I start the show off with talking about this thing called the Fire Challenge! It's when kids take a flammable solution and rub it on themselves and light it on fire only to run into a shower (or something) in hopes of putting it out before it burns them. Well, as you might expect, not everyone is so lucky. I believe you should push boundaries in life but lighting myself on fire, like a Tiki torch, is where I'll draw the line. Whatever happened to lighting your farts on fire? You know that's not cool enough for today's day and age! Let's step up the Fire Game like real bad-ass suburban kids and light ourselves on fire! Yeah, what now?! (Find Water?) Yeah, you see me on YouTube blazin' like Snoop Dogg burns a blunt! Fire Challenge, what-what!!
I guess there are some bragging rights for lighting yourself on fire and NOT getting burnt! Yeah for you! Go Billy! Way to go! Now hold this can of gas and try it! So I'm thinking of having a cook out, an end of summer blow out! The scene of people running on fire yelling "cannon ball" into the pool may be the spark my BBQ needs! I don't know about you but I like my human medium-rare!
It got me thinking; Are there rules to the Fire Challenge? I took the liberty to make a few basic guidelines for setting yourself on fire. I hope this is helpful to those who wish to ignite themselves up like the Monk on the cover of the first Rage Against The Machine album.
1. Shaving off all your body hair may be a good start.
2. Finding a solution that is heavy and will burn REALLY HOT is essential.
3. Remember kids, only you can put yourself out in the "Fire Challenge"
4. Know how to work the shower or hose you'll be using to put out said flames.
5. Don't panic, test the stop drop and roll technique.
Fire Marshall Bill: National Fire safety week!
I've had the privilege of interviewing Rob Ulrich, the lead singer from Mind Set Evolution, a few different times to talk about the band's new album and musical journey. Rob appears on Revelator Show #50 "Fifty Shades Of Revelator" . He also appears on Revelator #33 "Real Men Of Skin Pants" . Rob and the guys from Mind Set Evolution reached out to me to help spread a positive message about 'becoming the change'. Rob talks about this in detail on the 50th episode of Revelator (links above). I wanted to share this letter, video and photo from the band with you.
Mind Set Evolution #BecomeTheChange

When we wrote our album Brave Bold and Broken, we set out to create a body of work that would inspire others to dream. We sought to give people a musical safe place where they could hear our struggles. Where they could see our positivity in the face of incredible odds while working 10 years to become a national group and feel like, "hey, life is hard all around and I'm not alone in my difficulties. I can be the master of my destiny". Our song "The Change" is the very embodiment of all that we stand for. We want to share this song with the whole world! So, we made it a video single! We hope you'll join us in spreading this message of becoming self reliant, and having strength in times of difficulty, by sharing the attached photo and provided links, starting, August 5th!
THE CHIMPZ Release Brand New Music Video for "California"
Revelator started the year with the Chimpz! These guys are great! They offer the same energy during an interview as they do in their music. From the wild tour stories, to the start of how they formed; The Chimpz deliver a great guest spot on Revelator 41 : "Claw Hammers and Metal Spoons"
So-Cal, hip-hop influenced, hard rockers, THE CHIMPZ, are pleased to announce BRAND NEW details on their upcoming, adrenaline-injected, self-titled EP produced by Ryan Greene (Bad Religion, NOFX, Megadeth) hitting stores on September 9, 2014. The EP will include the band's new single, California, which is being released today in the form of a brand new music video, exclusively via Loudwire! Check out the music video here: http://loudwire.com/the-chimpz-california-exclusive-lyric-video-premiere/
Jeff and the guys from 3 pill morning will be hitting the road with Theory Of A Deadman. You can sign up for 3 Pill Morning's new email list and get a FREE Acoustic Download!
You can hear Interview I did with Jeff last spring that also included Michael Ricucci from Terra Rising records. Revelator 5 "Music Therapy and A 3 Pill Morning" If you're not familiar with Terra Rising, check them out. I recommend you do. If you have a passion for making a difference and enjoy people who are trying to do just that, look no further than Michael from Terra Rising;
Through music and film, Terra Rising Records strives to capture the culmination of the human beat through creative collaborations and projects to celebrate just how universal the language of music can be. We are an organization that believes there are stories left to tell; adventures waiting to be explored; and songs that still fill our hearts, that need to be heard.
On Revelator in the coming weeks I'll welcome Theory Of A Deadman to the show and also play a few songs off the new album Savages and talk about their upcoming tour!
The first guest on this week's show is Troy, from Canadian band Komodo Wagon. Troy was really great about rescheduling the interview because I had to take my son to the Dr. for his check up. Yes, my little guy is growing fast and is 100% healthy.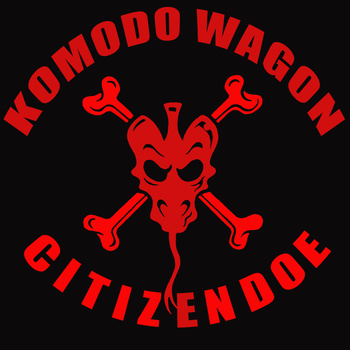 Komodo Wagon is another band like last week's guest "Message to Venus", that we've been following one another for some time and it was great to finally get them on the show.
Troy is one of those guys who's really easy to connect with and we were able to discuss a lot about the bands current & future releases. We also talked about the music industry and the difficulty touring as an independent band in Canada. The band has some hard, heavy riffs that really do jump out of the speakers at you! The songs "Hit TV" and "Citizen Doe" I feel represent this band and what you can expect from them. If you like hard, fast, heavy, grinding hard rock then Komodo Wagon has the bit you're looking for.
Closing out the show was Christina Criss, the lead singer for the Detroit Rock band Kaleido. It was one of those fast moving bookings. I had a band stand me up for an interview after confirming a date. As luck would have it I reached out to Christina on Twitter about doing the show and she was more than happy to do so and provided her manager's contact info.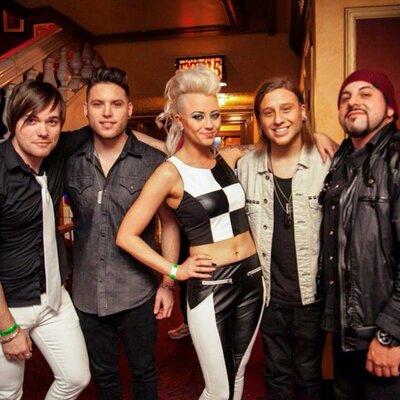 Within a few days we had a confirmed time/date. Bam! Off and running! Now, what's really cool about this interview is that, I'm friends with Steven from "The Nearly Deads", who just released a new album called "Invisible Tonight" . I was talking to Steven about this band Kaleido coming on the show for an interview. He informed me about them playing some shows together. He also clued me in about an inside joke while on tour. (You "Motha-Fucka") This was a big time ice breaker. Christina was really cool and we covered a lot of ground regarding the bands beginning, upcoming tour, new music and Cody who's in the band with Christina. We even got to talk a little about her fashion style and modeling career. Christina Criss has a great voice, great personality and is one HOT front woman for an up and coming rock band! Remember kids, floss on a regular basis.
I want to thank all this week's guests and the fans of the show for the ongoing support.
I have some really great guests coming up on the show including; Theory Of A Deadman, Adelita's Way, Chris Giles, New Medicine and other great bands, yet to be named.
I'll also be adding some great concert photos to the site from this week's Filter show at the Exit Inn. I uploaded my photos & live show review . I hope you enjoy them as much as I did taking them and writing the review. The guys from Gemini Syndrome & Sevendust, have been really supportive of what I do. Their PR people have been outstanding and true professionals in every sense of the word. Gracious people all around!
Look for a new Revelator soon!