Revelator Show 171: Electric Fireworks Division
On this episode of Revelator I welcome music guest 9 Electric and Death Division. You'll also hear my 4th of July fireworks parody Boom Booms Fire Shack.
Pryti shares her passion and really amazing insightful look at the album Gore.
NEWS:
Look for lots of great interviews and photos coming from this year's Vans Warped Tour! This year will feature over 12 interviews and countless concert photos.
Jordan O'Donnell the Revelator Shows newest contributor took some time this week to hang out and talk with the Bumpin Uglies while they were visiting Nashville on tour. Jordan did an outstanding job coving the band. You can read full interview and review.
Concert Photos
You can check out recent photos of this week's guest Death Division. I was also able to photograph the first show of the Marilyn Manson and Slipknot show.
9 Electric:
Mikey Lopez and the rest of the guys from 9 Electric would invite me into their home away from home while on tour with Lacuna Coil, while appearing on Revelator #171 to discuss the bands current and future plans.
Speaking of the bands home away from home the guy shared a story about the current status of their tour bus and the stuck accelerator that required a manual pull and someone turning down the RMP's while driving the bus to slow down. A real interesting combination of man vs. machine while traveling on the high way from town to town.
Mikey and I also get into an in depth talk regarding radio and satellite radio play and the impact it has on new music.
I also dig into the bands history starting in the Los Angeles music scene and meeting and working with the late Wayne Static. Mikey talks about how Wayne rally helped them get a break in the industry as a young band really starting out. Wayne appeared on one of the bands first single "Destroy As You Go". The guys took the time to share some real deep, personal stories about Wayne Static during the interview.
It's always fun to talk about a wide range of topics and have the interview not feel like an interview. 9 electric has been touring like crazy and have just announce a new tour with former guest Gemini Syndrome and Stitched Up Heart for a summer tour starting on July 13th.
The band also has a new album set for release July 15th titled "The Damaged Ones" featuring the new single "New God" that you'll hear on this episode of Revelator.
For more information about 9 Electric please visit:
https://www.facebook.com/9ElectricFB/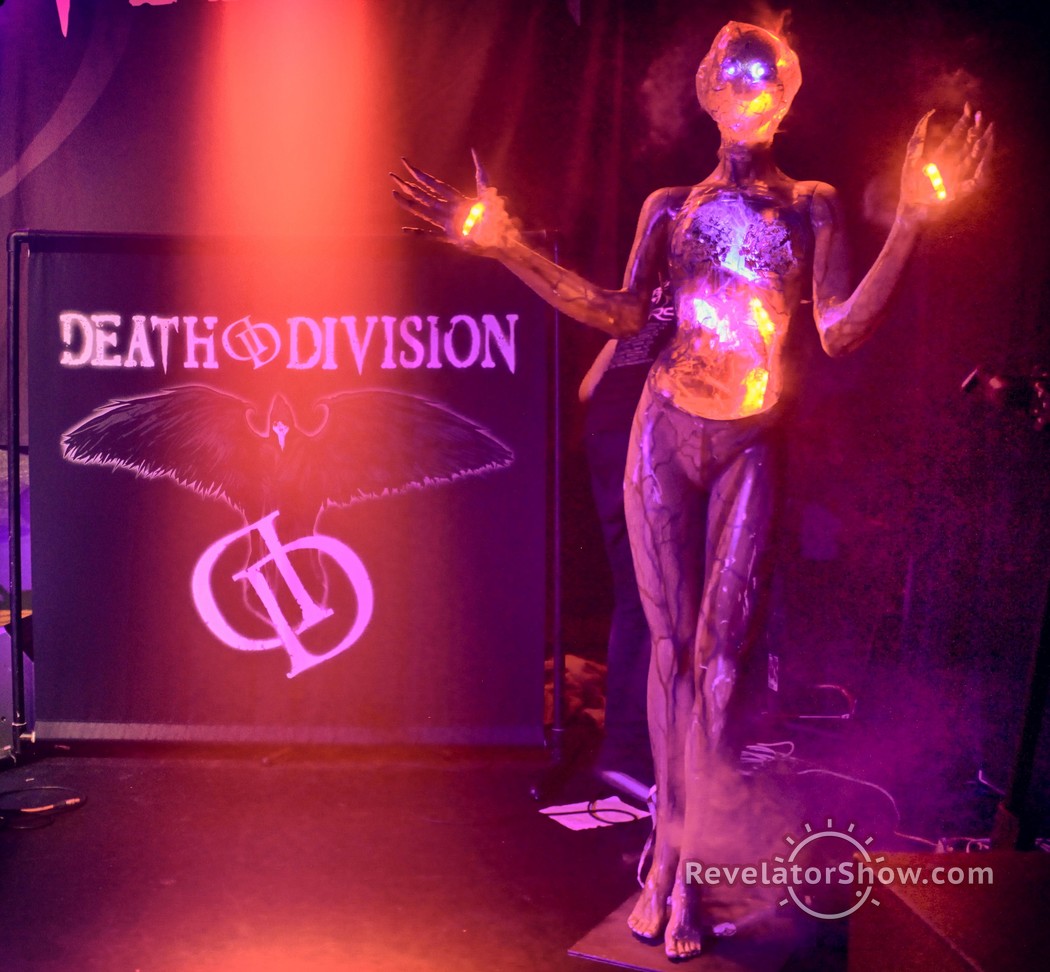 I had the pleasure to meet and talk with the founder of Death Division Jerry Montano who appears on Revelator #171. Jerry and I had a lengthy conversation about his diverse past into the music scene from his crazy move and start in the LA metal scene to playing with Nothingface, Danzing, touring with Pantera, and helping forming the band Hellyeah.
Jerry's start and drive to be in the industry is bare none and he was able to share some amazing stories about meeting Dez from Coal Chamber, Snot, playing in Danny Carey from Tool's old band and countless others in the mid 90's.
Jerry also talks about great time from the past but also how sad it I that so many from that time are no longer around to enjoy the present.
Jerry speaks about touring and shares some amazing stories about Dim Bag Darrel as well.
Death Division has just released a brand new EP titled "Angels Of The Black Dawn, Part One" Jerry talks about the impact of this band and how personal this release is for him. He talks about the song "In Loving Memory" and the story about what and how it came together.
Jerry also has a non-profit origination called Bridging the Gap Recovery. They help musicians who are dealing with addiction and while on the road to recovery gain relief with their monthly bills. It's a great cause to help people get the help they need while they get them self's straight a while bridging the gap to recovery.
For more info about Death Division please visit:
http://www.revelatorshow.com/guest/death-division/photos-6-25-20106