Revelator Show 127: Rise To Devour
On this episode of Revelator I welcome special music guest Devour The Day and welcome back Jasmine Cain. It's a big double feature.
I'd like to start this week's blog by thanking everyone for their support, sharing the show links, following me on twitter, listening and or reading content on Revelatorshow.com.
This week on Revelator will feature two shows instead of one. The next show will be out this Thursday Aug. 27th featuring Night Argent & Beautiful Bodies. You will also be able to see photos from Between The Buried and Me, Alice In Chains, Pink Floyd light show and future guest Le Butcherettes.
The third installment of the album review section that was launched this several weeks ago features new Failure album reviewed by lead vocalist Meta Dead from The Dead Deads. I have to say I'm very happy to see so many musicians getting involved
You can look for upcoming album reviews of the new P.O.D album done by Jordan from former guest Everlit
I hope to have more artists reviewing more albums as time goes on. I'm very excited to see where this can go.
Upcoming guest
All that Remains, Night Argent, Beautiful Bodies, and First Decree
With the growth of Revelatorshow.com the time has come to inquire about advertisement opportunities. If you have a company, program, product you'd like to have featured on the blog, podcast or need photos taken of please contact me here for rates
http://www.revelatorshow.com/contact/
I've also added a donation section to Revelator that offers some great gifts and prizes. Feel free to check it out and become a part of Revelator and its continued growth.
Blake from Devour The Day was really great to chat with. We spoke about his transition from full time drummer with his former band to leading vocalist for Devour The Day. I've recently had the opportunity to see Devour The Day live here in Nashville this past Month. You can check out photos from that show here:
Blake and the guys have been touring relentlessly on the album "Time & Pressure" and are working on their follow up to the release. I for one am very excited to hear the new songs the band is putting together. Devour The Day have built up a reputation for being an outstanding live band and continue to deliver on stage. The band will be wrapping up their 2105 fall tour with a huge on stage performance at this year's Knott Fest. Blake discusses how shocked they band was to get invited to play but again its proof that Blake and the band have crafted a note worthy album with Time & Pressure. Devour The Day are doing that and then some.
Jasmine made her first appearance on Revelator #112 to talk about her upcoming release and summer tour.
I'm happy to have Jasmine back on the show to share some fun stories from the road and talk about her new album "White Noise" thatwas released this past July and was Produced by Lincoln Parish, former guitarist for Cage The Elephant, the 11-track opus is chock full of fist-pumping anthems, irresistible melodies and heartfelt ballads. Modern rocker "Break Even" roars out of the gate as the album's first single with motley riff-rocker "Coming In Hot" primed to explode at rock radio. Elsewhere, "Nightingale, "Into the Grey" and "Any Given Sunday" deliver scintillating big chorus bravado while album closer "Fall to Rise," a duet with Ralph Saenz (better known as Michael Starr of Steel Panther), showcases Jasmine's undeniable ability to effectuate emotional urgency.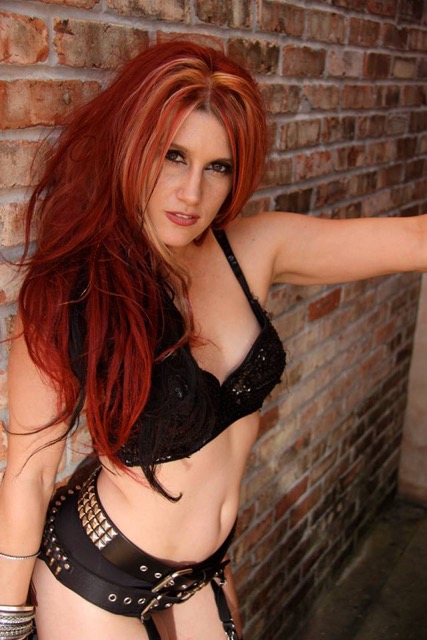 Jasmine Cain makes her second guest spot on Revelator #127 to share stories from her summer tour and talk about the release of her new album White Noise. Jasmine and I can and will talk about almost anything. Don't miss this one
Jasmine Cain appears on Revelator #112 to discuss her current tour and her new album "White Noise"
For more information about Jasmine Cain please visit:
In addition to Starr, White Noise features contributions from bassist Kevin Bebout (Full Devil Jacket), drummer Christopher Williams (of Accept), guitarists Jeff LaBar (of Cinderella), Gerry Finn (of Killer Dwarfs), Jeff Caughron (Full Devil Jacket/Every Mother's Nightmare), Kenny Greenberg (Gretchen Wilson/Kenny Chesney) and Peruvian axemaster Charlie Parra (M.A.S.A.C.R.E./Kobra and the Lotus).
Jasmine and I have built up a really nice friendship in a short time. We seem to be able to talk about anything. I had the opportunity to photo Jasmines CD release show the other night and it was a really fun show highlighted by Jasmines power vocals, her long hair whips and thunderous Bass lines.
It's always nice when an artist respects what I do with Revelator. It's even better when you can garner a friendship. I hope you enjoy Jasmine's new singles "Fall to Rise" & "1995".
Look for photos from this show coming soon.