On this episode of Revelator I welcome special music guest Sunflower Dead and Rubikon. This week in Revelator History artist features music by Kaleido & Komodo Wagon. I'll cover the top movies and share some fun stories about photographing Alice In Chains at the Ryman Auditorium.
I'd like to start this week's blog by thanking everyone for their support, sharing the show links, following me on twitter and listening and or reading content on Revelatorshow.com.
The first installment of the album review section that was launched this past Friday features former guest CJ Pierce from Drowning Pool reviewing the new Saint Asonia album who were on the Revelator #122
You can look for upcoming album reviews of the new Lamb Of God from Brian Fair of Shadows Fall and the new Failure album reviewed by lead vocalist Meta Dead from The Dead Deads.
I hope to have more artists reviewing more albums as time goes on. I'm very excited to see where this can go.
You can hear Drowning Pool interview here
With the growth of Revelatorshow.com the time has come to inquire about advertisement opportunities. If you have a company, program, product you'd like to have featured on the blog, podcast or need photos taken of please contact me here for rates
http://www.revelatorshow.com/contact/
I've also added a donation section to Revelator that offers some great gifts and prizes. Feel free to check it out and become a part of Revelator and its continued growth.
If you have recommendations on how I can improve Revelator please comment below.
The Warped tour closed out this weekend but if you're still wanting to get some cool interviews and music check out the warped tour section here of RevelatorShow.com Warped Tour Coverage. You'll see photos, reviews, and hear interviews from some great up and coming bands in the music industry.
This week's photo blog gallery features photos of Failure & Three Days Grace. For cool outtake photos and behind the scene shots please follow this Instagram account. https://instagram.com/revelator_show_fan/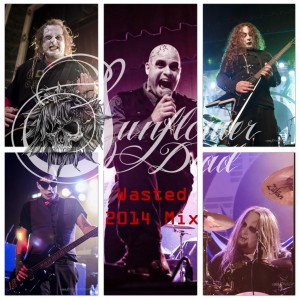 Michael the lead vocalist joins me again on Revelator to discuss the bands growth over the last year and also promote the bands new single "Dance With Death"
I had to mention Michaels unique homemade metal spike jacket he wears on stage. I believe he said it's up to 25 lbs or so and he's yet to injury anyone but, he does share a near miss story while on tour.
The Sunflower Dead's sophomore full-length album with the assistance of producers Dave Fortman (Evanescence, Slipknot, Godsmack, Mudvayne) and Mikey Doling (Snot, Gemini Syndrome), the band is tentatively eyeing a late Fall 2015 release.
Hear first interview with Sunflower Dead
Michael and I also talk about their run with Korn this year with Korn in the UK and former guest Mikey Doling from SNOT.
Michael and the Sunflower Dead have been great supporters of Revelator and I'm really happy for the success they have had thus far and with sound of this new single it's a safe bet that they have put together another great collection of songs for this new album.
Guitarist Dave Raymond joins me to talk about the band's first album since 2011 titled "Delta" set for release Aug. 21st.
Dave shares some great back story regarding the bands early days and what I thought was a humorous story about how some lady at a bar helped name the band. Dave and I even get into some History of the word Rubikon. Who says you can't rock and learn something at the same time?
On this episode of Revelator you'll hear two new singles from the upcoming album "Delta". The first song is the newest single titled "Pretty Pretty" and to close the interview the lead single "Live That Lie" a song that really embodied the passion and musical integrity of the band.
Dave Raymon the guitarist from Rubikon joined me to talk about the bands new album "Delta" set for release Aug. 21st. 2015. Dave and I also discuss the bands history, and what people can expect from their unique evolved sound that can be heard with their new singles "Pretty Pretty" & "Live That Lie" both songs that can be heard on this episode of Revelator #125
For more information about Rubikon please visit:
RUBIKON's upcoming third album, Delta, will hit stores on August 21, 2015 via Round Hill Records. You can pre-order the album now at this location: http://smarturl.it/rubikondelta
Delta features progressive blues rock riffs, soaring vocals, complex harmonic structures, mile-high atmospherics and metallic outbursts. Influencing genres on Delta range from classic blues rock to hard rock and sludge metal, only further refined by mix master Alain Johannes (Queens of the Stone Age, Them Crooked Vultures), producer Marti Frederiksen (Aerosmith, Brother Cane), and Howie Weinberg (Metallica, Nirvana), who mastered the record. Recorded in an organic, live setting at Quad Studios in Nashville, TN, the band chose to include minimal overdubs and completed the album over just two weekends.
This Week in Revelator History:
This week I look back on Revelator #71 Stop, Drop & Rock'N'Roll featuring two really cool bands. The first you'll hear on this episode is Komodo Wagon from Canada and their song "Citizen Doe" and later in the broadcast you'll hear Kaleido and their single "Unbreakable"
Another really funny segment on this episode was my take on the trend called the fire challenge. A trend that did not last long because well setting you on fire is stupid as hell.
Upcoming guest include Mos Brothers, Jasmine Cain, First Decree, and adult film star Sara Jay.