On this episode of Revelator I welcome music guest Epic from Crazy Town, this week in Revelator history featuring Saliva & Revel 9.
This week's blog feature includes info on past guest Saliva and Revel 9. I've also included review and photos of last week's Dead Sara concert at The Mercy Lounge in Nashville.
I'll give an audio review of the Every Time I Die double show at "The End" along with Monday March 30th Nickelback & past guest Pop Evil show at Bridgestone arena in downtown Nashville. (Photos to come)
Audio review on this week's podcast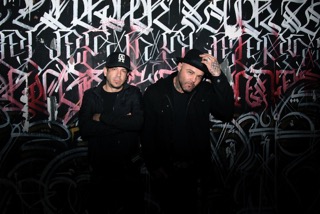 Epic from Crazytown joins me on Revelator #105 to discuss the bands newest single "Megatron" The band is set to release their new album The Brimstone Sluggers. The album will be released this spring via Membrane / The Orchard.
For more information about Crazytown please visit:
Crazytown is back with a brand new single titled, Megatron. Featuring founding members Bret Mazur (aka Epic) and Seth Binzer (Shifty) their forthcoming album is stylistically a follow up to their platinum debut, The Gift of Game, which featured the #1 single Butterfly.
Megaton is about second chances, and grabbing a hold of your life before it passes you by. The song also features a brand new artist, Boondocks - a Marine Corps vet that reached out to Seth on Instagram. Moved by his talent and energy, Bret and Seth invited Boondocks to join them in the studio. "Boondocks was a huge fan and we thought he was really dope as an artist," Bret says. "Seth and I brought him to the studio to help him with his little project and we ended up doing a song together for our record. It was only after getting to know him and spending time with him that he told us about his honorable service to our country as a combat veteran of the Marines."
Hear the new single, Megaton here: https://www.youtube.com/watch?v=wHqNJxfMBF8&feature=youtu.be
After receiving a great response on tour in Europe last summer, Bret approached Seth about finishing a couple songs they had previously written. The vibe in the studio was so great, a couple of new songs turned in to a whole new record. The forthcoming album, The Brimstone Sluggers will be released this spring via Membrane / The Orchard.
This Week in Revelator History:
Saliva:
Saliva appears on Revelator #52 to talk about the bans tour and newest release "Rise Up". The band has parted ways with singer Josey Scott and I was able to catch up with their new singer Bobby Amaru to discuss his impact on the bands old classics and breathing new life with the new sings off the new album.
Saliva has been touring none stop for over a year on the "Rise Up" album and shows no signs of slowing down. You can find out if they are coming to a town near you.
DJ from Revel 9 joined me at a time when the band was really gearing back up after some major ups and downs. He discusses the bands history with me and the plans for what to come for Revel 9. DJ and I have an in depth talk about the music industry as a whole. Revel 9 and DJ are really good people in the music industry that make doing Revelator worth it.
The band has a free download of their newest single "Senseless Tragedy" off their newest album titled "The Reality Crush". The band has maintained a constant support on the east coast and has a busy regional touring scheduled through July of 2015.