On this episode of Revelator I welcome music guest First Decree and Little Foot Long Foot. I'll also cover the top movies at the box office and a special parody ad from Lucky Tucks Irish bar.
Joan the lead vocalist of Little foot Long Foot joins me to discuss the bands new EP "Women" and talk about the bands early beginnings and future plans for 2015 and beyond. Joan and I talk about the bands early songs & titles that include with my favorites 'Neko case Hate fucks Kurt Cobain". I even get Joan to play a fun game I created calls Little Foot Long foot where she guesses the show size of musicians like Ozzy Osborne ,Bon Scott ,Josh Homme and, Stevie Nicks. On the show you'll hear the newest single "Women" Joan and I close the interview with the raspy, passionate core track off the EP "Women" called "Heavy".
Joan talks about the bands unique name and the Dave Chappelle skit that helped trigger the name. You can see that skit here: Clip starts at 4:40.
The Toronto-based trio comprised of vocal powerhouse and guitarist Joan Smith (White Cowbell
Oklahoma), monster keyboardist Jeff Heisholt (The Trews, Skydiggers, Peter Elkas Band), and rock solid drummer Gavin Maguire (Dearly Beloved, Peter Elkas Band, Parlour Brothers) are ready to unleash their new 5 song EP 'Woman'. "Once we got the arrangements down I just put microphones on these guys and let them do their thing. They're such great players - it was easy to produce them." says "Woman" producer Colin MacDonald.

Songs from 2011's Ian Blurton produced 'Oh, Hell', and 2009's 'Harsh Words' found their place in the pop culture zeitgeist, including placements in the end credits and soundtrack album of Netflix's 'Orange is the New Black', Degrassi, the Eva Mendes film 'Girl in Progress', and the Will Arnett NBC sitcom 'Up All Night'.

Upon winning Indie Week's Studio Competition, LFLF enlisted MacDonald's production skills and Adrian Popovich's (Sam Roberts, Priestess, Tricky Woo) mixing wizardry to hone their songs to a sharp,
explosive, hook-filled point. Little Foot Long Foot has continued to develop and produce quality music since its creation and the new EP Women showcases Joan's vocal command stands out along with her diverse and creative lyrically substance that continues to shine.
Lucky Tucks Fake Advertisement:
Come to Lucky tucks Bar on Saint Patty's Get plowed, wasted and completely trashed, we will get you loaded! Lucky Tucks will not guarantee your luck on getting fucked but with cheap green beer you'll be Adelitas Way to getting around in no time at all.
Taste the rainbow a second time! Homemade corn beef & cabbage served hot. Stroll down Irish car bomb way to enlighten intoxication, with music from the bog trotters. The sound track to your black out! Lucky Tucks the Leprechaun wears nothing under his Kilt and we encourage you to do the same. Let your shalaylee swing
Break out your Blarney stone, put on some green, or get punched in the eye Spend Saint Patties day at lucky tucks, where you don't have to be Irish to get fucked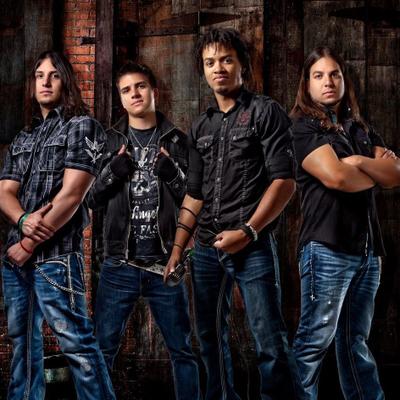 Dane from the band First Decree joins me a second time on Revelator #129 to talk about the bands new album "Lift To Rise" and current tour with Avatar & Gemini Syndrome.
First Decree join me on Revelator #102 to talk about their new album and upcoming tour this spring 2015 with Alien Ant Farm.
For more information about First Decree please visit:
Dane Demar the guitarist from the band First Decree joins me to talk about the bands upcoming tour and plans for recording their follow up debut album "Set in Stone". Dane said the band will be working with up and producer Joel Wanasek. Dane also talked about the forming of the band with his brothers. We also shared some fun stories from the road, his leprechaun impression and a fun green beer story for Saint Patrick's Day.
Rock breakout First Decree has released their single "Phoenix" from their forthcoming full-length album arriving later this year. Now available on iTunes, "Phoenix" by First Decree was remixed from its original version by Joel Wanasek (Asking Alexandria, Righteous Vendetta, The Bloodline) and is at radio now. With early and immediate attention from radio, the song has already made its way onto the "Billboard Mainstream Rock Indicator Chart" at #35 and continues to climb.
First Decree drummer Zach Lee states "We couldn't be more excited to get back in the studio with Joel. He's made some monster records since we first recorded with him 2 years ago. We know he's the guy that brings out the best in us."
The Cheyenne, WY based act will re-enter the studio beginning March 7th with Joel at JTW Studios in Milwaukee, WI to complete the new record. The month of March will also see First Decree playing the 3Thirteen Entertainment SXSW Showcase at the Dirty Dog in Austin on March 19th.
This Week in Revelator History:
This week in Revelator history features Revelator #2 "I'm An Egg Man" Chad and Ashley also appear on Chad and Ashley come back to Revelator and appear on show #88 "Black Friday Brawl on Whisky Row "
to talk about their new EP " On The inside"
Chad from Annandale has been on the road with fellow past guest Luminoth on the "From Birth To Burial Tour" On this episode you'll hear one of the bands newest songs called "Ugly". It ended up being a mutual pick for the band and I to feature this track on Revelator #88 and it still rocks as hard then as it does now! Annandale is anything rocks with their new EP "On The Inside" get Ugly with Annandale!
Upcoming guest on Revelator include Sleepwave, Fall To June, Lucid Fly, Incite, and many more yet to be named.